'Westerly, Rhode Island, father Robert Chiaradio was convinced that if only people could see it with their own eyes, they would join his battle to remove Maia Kobabe's book, Gender Queer: A Memoir, from the high school library.
So when he took the podium at the Westerly School Committee meeting last December, Chiaradio came prepared with more than just his talking points. Filing in behind him were his supporters, each one holding up a poster-sized illustration from the book [graphic material at link]. Together they revealed a revolting display of images for the whole room to see.
It didn't last long, though. Soon, a group of seven teachers crowded around him and positioned themselves in front of each poster, blocking its view from the audience. Though everyone had already seen the sickening pictures, the teachers refused to budge, their arms folded in defiance, as if to say, "You're not seeing that."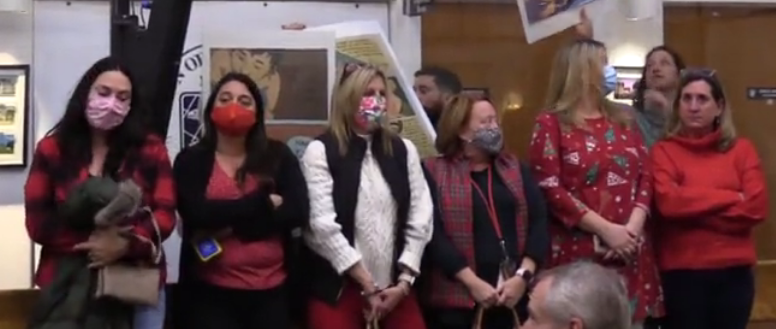 Chiaradio wanted to know why it was fine for a 14-year-old at Westerly High School to see the book, but not the adults at the meeting. When he asked the Westerly Teachers Association head, Colleen Saila, that question, he says she replied that the teachers in the room were "offended" because they didn't have a choice about seeing the poster-sized pictures from the book.
There was another choice they didn't have that night. Like it or not, the second those posters were raised in the air, the school lost control of the narrative. The secret of Gender Queer was out.
And covering it up after the fact didn't change the fact that the school was offering pornography to its students.
The Man Who Won't Quit
Last December was not the first time Chiaradio was blindsided at a school committee meeting.
He has been in his adversaries' crosshairs for over two years, ever since he started asking his pesky questions about critical race theory (CRT) in Westerly's public schools. By now, he's gotten used to being sabotaged, gaslit, lied to, and called the worst sorts of names. Few would be up for the abuse and aggravation that have come with his two-steps-forward, one-step-back battles.
But while Chiaradio is relentless, so are his opponents.
At a school committee meeting this past September, a teacher urged that his "dangerous rhetoric" be "shut down" "at its first breath"'https://legalinsurrection.com/2022/12/rhode-island-father-stands-strong-against-radical-race-and-gender-indoctrination-in-public-schools/
This pdf shows there is CRT being taught in this school district.