I only use Twitter because it is connected someway when I publish this blog on WordPress. Other than that Twitter is not part of my life. Now, with that said here is an article concerning a Cornell student Twittering about Sleepy Joe's boy, Hunter. It seems, these Big Tech companies like Twitter get pretty touchy about their Leftist/Marxist friends in high places!
'OPINION: We must reject Big Tech tyranny before it is too late
Twitter has suspended me for a tweet I posted of a picture featuring Hunter Biden in his underwear that had been found on his laptop.
I asked in my tweet above the notorious picture, which has circulated in news outlets and on social media for months: "Imagine if this was Don Jr. instead of Hunter Biden?"
My tweet was deleted by Twitter and my account was suspended for "violating our rules against sharing privately produced/distributed intimate media of someone without their express consent," the social media giant told me in a message.
While my account is still visible, I cannot tweet or retweet from it and am effectively locked out.
Twitter informed me that I needed to personally delete the censored tweet to begin a 12-hour countdown to restore functionality or appeal the alleged "violation." I decided to appeal.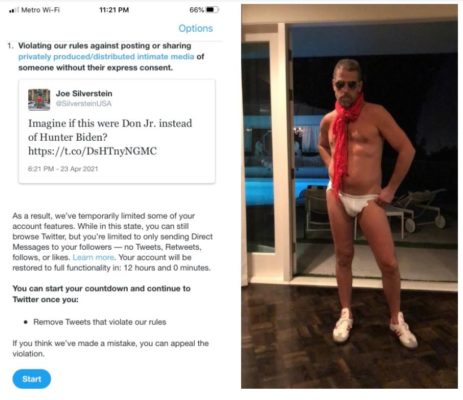 First, I reject the premise that the picture constitutes "intimate media." Hunter Biden is wearing a scarf and underwear, and at least from the angle from which the picture was taken, they provide the same coverage as would a speedo if he were walking on a beach. With the scarf, one could argue he is even more clothed than he might be at the beach.
As for Twitter's contention that the "intimate media" was distributed without the express consent of the subject, this demonstrates its hypocrisy.'https://www.thecollegefix.com/twitter-suspended-me-for-posting-notorious-picture-of-hunter-biden/