'John Dunn, a street preacher, had Public Order Act charges dropped after prosecutors claimed parts of the Bible are 'abusive' and 'no longer appropriate in modern society.'
John, a cancer survivor from Swindon who has served in the British Army's Special Forces, was interviewed under caution and subsequently summonsed by the police for alleged 'homophobia' after preaching on Swindon High Street in November 2020.
Mr Dunn, who regularly preaches despite having lost his voice box following throat cancer, is a Bible-believing Christian who preaches in Swindon town centre. He considers preaching on the streets and speaking God's truth to be an essential part of his Christian calling, which he has been doing for 15 years.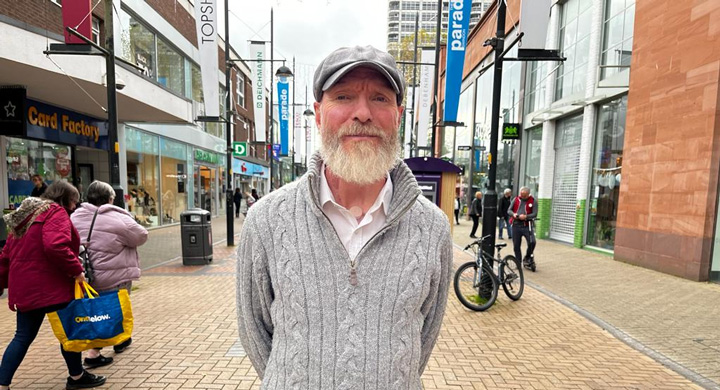 ---
After an interaction with two women who said they were in a same-sex marriage, John was reported to police and then charged under the Public Order Act.
The Crown Prosecution Service argued when charging him that there are "references in the Bible which are simply no longer appropriate in modern society and which would be deemed offensive if stated in public."
However, the case against him was thrown out after the two women reportedly 'refused to engage with the case' after making the initial allegations.
Following the outcome, Mr Dunn said: "Before I became a Christian, I hated people, I served with the Special Forces and I made it my mission to learn how to best kill people, that was my job. But when I met Jesus Christ, he changed my heart, took away my hatred and filled it with love. Jesus was the answer for me, and I believe the world needs to know and experience this hope. That is why I do what I do, to help everyone to find the light of Jesus out of the darkness we all live in.
"When I preach, I only ever say what is in the Bible. When they told me they were in a same-sex marriage, I was concerned for them. I had to communicate the consequences of their actions based on what the Bible says. I wanted to warn them, not out of condemnation, but out of love. I wanted to them to know that there is forgiveness through the love of Jesus."'https://christianconcern.com/cccases/john-dunn/