'For the second time in a week, top scientists have reported that "Omicron specific" Covid mRNA boosters are a $5 billion taxpayer-financed marketing gimmick.
The new shots work no better than the original mRNA shots to produce antibodies specifically targeting the Omicron variant.
And the Omicron shots are even WORSE than the original boosters in producing T-cells that target Omicron, according to the researchers, part of a group led by Dr. Dan Barouch, a highly respected virologist. This finding is of particular concern because T-cells, the second line of the immune system, keep infections from becoming too severe.
—
Boosters using the original mRNA formulation have been largely phased out, because – as public health bureaucrats now admit – they stop working against Omicron infection within weeks. In fact, real-world data from many countries suggest they increase the risk of infection within months.
The "Omicron-specific" boosters were supposed to solve that problem. Regulators approved them in August, despite a lack of any clinical trial evidence they reduced coronavirus infections or serious cases of Covid in people. The Federal government agreed to pay Pfizer and Moderna $5 billion for 171 million doses of them.
But both Dr. Barouch's study and another last week from Dr. David Ho, another top virologist, found that Omicron-specific boosters work no better than the original boosters against Omicron. Both studies showed the antibodies our immune systems produce after the Omicron shot are more effective against the original and now essentially extinct version of Sars-Cov-2 than against Omicron variants.
This phenomenon is called "original antigenic sin" or "immune imprinting," and can occur after any vaccination – or infection. But the mRNA shots appear particularly likely to cause it, probably because they stimulate such high levels of anti-spike antibodies when they are first given.
The findings help explain why so many people, including Centers for Disease Control director Dr. Rochelle Walensky, have recently tested positive shortly after being boosted.
But Dr. Barouch's group went further than Dr. Ho's, examining T-cells as well. It found the same problem; following both the Omicron and the old booster, T-cells focused much more on the original Sars-Cov-2 than Omicron variants.
T-cells are a crucial second line of immune defense, helping the body keep infections from becoming too severe. Because Omicron is not very dangerous to most people, so a weak T-cell response does not matter much against it. But if a future Sars-Cov-2 variant is more dangerous, the relative lack of a T-cell response could put vaccinated people may be at serious risk.
(Bivalent is a fancy word for "Omicron-specific." Except the Omicron-specific booster isn't Omicron-specific at all, which is why T-cells targeting Omicron hardly rise at all following the bivalent booster, while they more than double after the original booster.)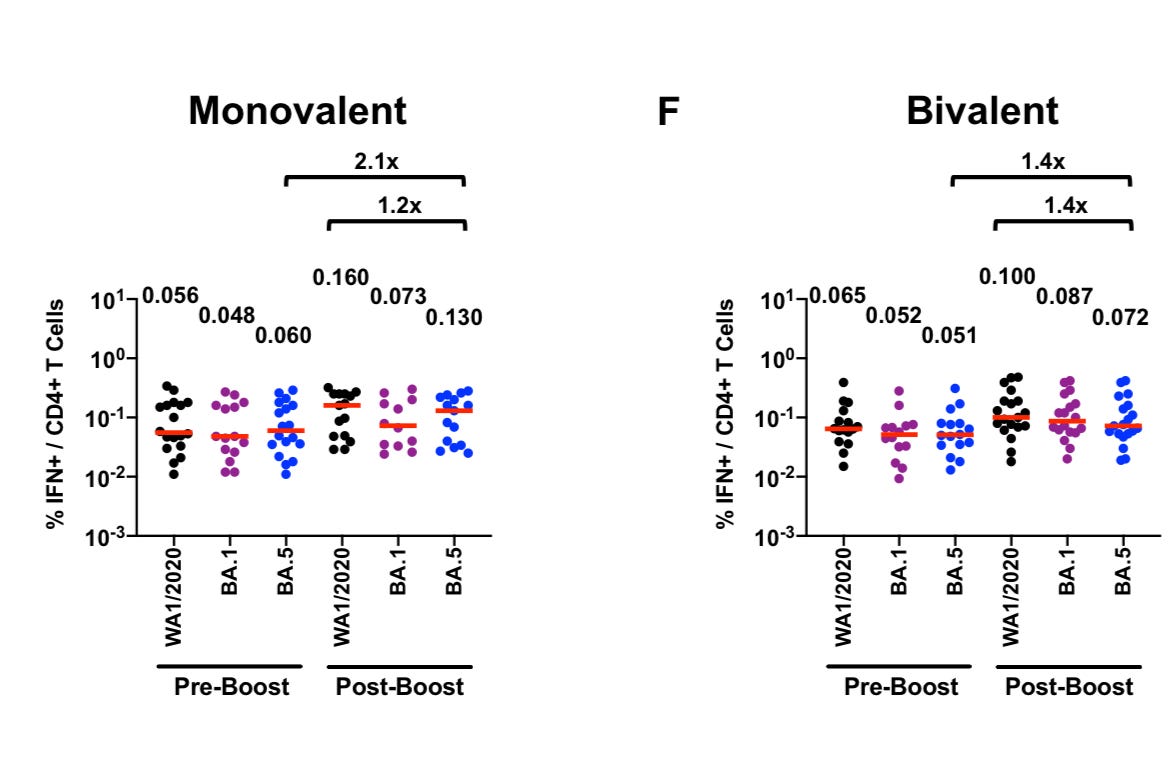 As the researchers concluded:
Our findings suggest that immune imprinting by prior antigenic exposure may pose a greater challenge than currently appreciated for inducing robust immunity to SARS-CoV-2 variants.
Such a polite way to say, we gave a billion-plus people mRNA shots that probably opened them to future Sars-Cov-2 infections forever.
No worries! Lessons learned and all that.'https://alexberenson.substack.com/p/another-new-study-yes-a-second-one/comments?publication_id=363080&post_id=81234239&isFreemail=true&comments=true