'This week, the global elites descended on Davos, Switzerland for their annual pow-wow and, as always, they used the occasion to promote their agenda for centralisation and control.
The World Economic Forum (WEF) event was once again a who's who of the global elite, with business leaders, political figures, and celebrities all rubbing shoulders.
The WEF founder Klaus Schwab opened the event by declaring that the future will be "built" by those in attendance at Davos — a clear sign that these elites see themselves as the architects of the future, with the rest of us just going along for the ride.
Australia's taxpayer-funded e-Safety Commissioner then suggested that human rights online should be "recalibrated", particularly when it came to free speech.
The CEO of YouTube also spoke about censoring people.
You'd expect the Davos crowd to want to "recalibrate" our right to free speech. They only want free speech to suit the needs of the elite and censor any dissenting opinions that don't fit their narrative.
J. Michael Evans, president of the Chinese Communist Party-linked Alibaba Group boasted to the elites of the development of a carbon footprint tracker by his company:
"We're developing, through technology, an ability for consumers to measure their whole carbon footprint. What does that mean? Where they are traveling. How they are traveling. What are they eating. What they are consuming on the platform. We don't have it operational yet, but this is something that we're working on."
Can you imagine such a device in the hands of extreme green zealots that are now ensconced in government?
A panel of elite bankers then told the forum that a centralised digital currency was but five years away. Last year, the British Government and the Bank of England were mulling over the idea of making such centralised digital currencies programmable, meaning the issuer of the funds could determine what you spend your money on, where you spend it and how much you spend.
And, of course, there was a lot of finger-wagging about climate change at Davos, with the irony somehow lost on the many attendees who flew in on their private jets to attend the Swiss talkfest about lecturing us mere mortals about the need to reduce our carbon dioxide emissions.
The spoof Twitter account World Ecommunist Forum perfectly summed up the hypocrisy with this tweet:
Many alternative media journalists and commentators who turned up in Davos were accosted by police who — both frighteningly and bizarrely — wore a badge declaring themselves the "World Economic Forum Police". Fact checkers tried to cover it up by claiming the badge was merely commemorative but you can be the judge looking at this photo of the badge on a police officer who detained independent reporter Jack Posobiec.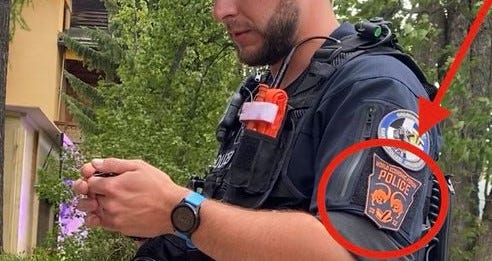 Security was immensely beefed up for the global elite's version of Woodstock with a 5,000 military personnel on duty and a no-fly zone in force.
The theme of Davos 2022 was supposed to be "Working Together, Restoring Trust". Obviously they were working on control. But there can no trusting this crowd.' https://nationfirst.substack.com/p/exposed-what-the-globalists-did-this?token=eyJ1c2VyX2lkIjo0MjUyOTI1MiwiXyI6ImNmZWY0IiwiaWF0IjoxNjUzNzE2NzgyLCJleHAiOjE2NTM3MjAzODIsImlzcyI6InB1Yi00NTQxODIiLCJzdWIiOiJwb3N0LXJlYWN0aW9uIn0.XSC-5nTnHs3WO0DnrpHb3kdcotgn5XaoblBN-RStmyc&s=r