When a political party calls itself the 'Conservative Party' such as the one in the UK says they are doesn't mean they really are. This is the same thing we in Australia are facing, fake conservatives. Now, personally, I wouldn't do what this councillor did but he got his point across! The Greens and Labour in the UK are simply puppets of the Left and the CCP to which the so-called Conservative Party seems to be seeking to join as soon as possible. I say this for otherwise they would not have suspended Mr. Deacon for his Facebook post.
'Mark Deacon, a conservative councillor in the UK, has been suspended from his role for posting an image of him wearing a dress in protest of the idea of a 6PM curfew on men following the murder of Sarah Everard. The councillor faced backlash for being "insensitive" to violence against women.
On Sunday, Deacon posted a picture of himself in a long black wig and floral pink dress. He said he would dress like that if a 6PM curfew against men was imposed.
"If the Green Party and some Labour party politicians get their way and impose this ridiculous 6pm curfew on men, then I'm going to wear my dress more often," Deacon posted on Facebook alongside a photo of himself dressed as a woman.
He later deleted the post, caved, and offered an apology. However, Twitter user @Miss-Eastgate had already shared a screenshot, writing, "Plymouth City Council, really?"
The Conservative Party suspended Deacon, with the Conservative Group leader Nick Kelly confirming that an investigation will start "as soon as possible."'https://reclaimthenet.org/conservative-councillor-suspended-for-post-dressed-as-a-woman/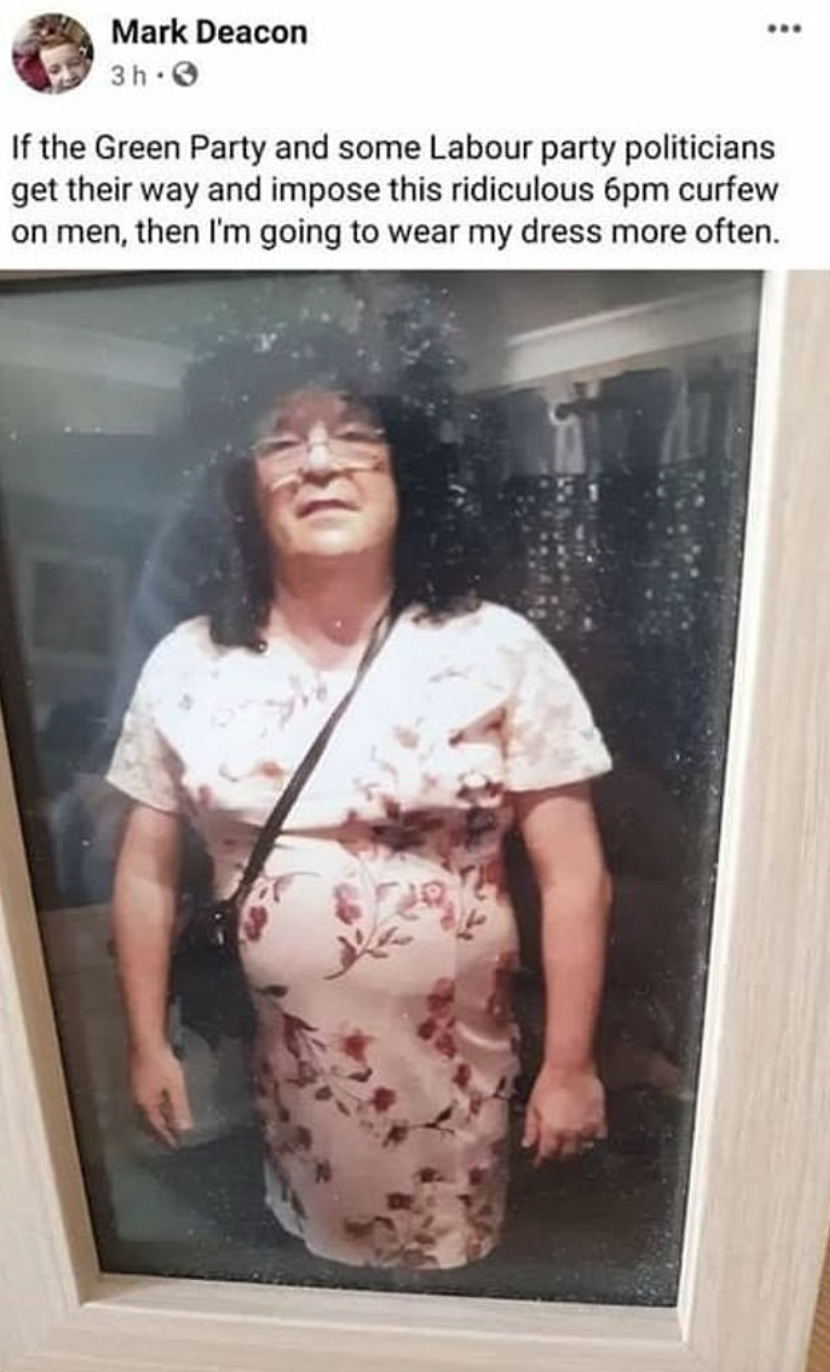 Yes, he doesn't look good in the dress but I get the point don't you?