Translation whether it is the Bible or some other book is taking one language over into another. In the case of the Bible it is taking the Hebrew Old Testament and the Greek New Testament over into the English language. The supreme English translation for over four hundred years has been the Authorized Bible also known as the King James Bible. However, since the late 1800's there has been hundreds of Bible versions published from what is called the Critical Greek text produced by Westcott and Hort. It is that text that most translators use today in the New Testament.
Does it really matter if the Critical Greek text is used rather than the text the Authorized Bible translators used? Well, yes it does. It has been shown by Dr. Jack Moorman that there are eight thousand difference between the New Testament Greek Words of the King James Bible compared to the Text used by the modern versions such as the ESV and others.
Now, all the above is said because 'The headlines in Christian media this weekend seemed to tell a remarkable, feel-good story:  Attendees at a virtual women's conference pledged more than $1.5 million to an effort to translate the Bible for unreached people.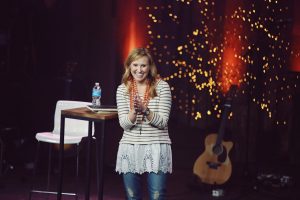 More than 750 women viewing the IF: Gathering conference March 6 signed up within the first five minutes to support IllumiNations' 12 Verse Challenge, which asks donors to pledge $35 a month for a year to help cover translation costs for 12 Bible verses.  Christianity Today was among those reporting the story.  The women raised enough to translate a full Bible—$1 million—in five hours, CT said.
The total number of givers as of March 16 has topped 6,300, which organizers of the event said would fund more than 46,300 verses.
"IF:Gathering, we are blown away by your generosity," IllumiNations said in an Instagram post. "After launching the 12 Verse Challenge with you last weekend, over 6,000 of you have given and we're now close to funding a second translation of God's Word. Because of you, we're able to help the Konta, Oyda and Melo people groups of Ethiopia have the Bible in their language.⁠"'https://ministrywatch.com/womens-conference-attendees-pledge-more-than-1-5-million-to-bible-translation-effort/
If you go to https://illuminations.bible/about you will see they partner with many translation organizations including the United Bible Societies (UBS). The UBS's Greek New Testament second Edition states on page v that one of its four principal translation stages is based 'on the basis of the Westcott and Hort's edition of the Greek New Testament'. Westcott and Hort despised the Greek Text underlying the King James Bible!
Any translation from a text other than the one underlying the King James Bible will give you an unreliable version of the Bible. Simply put the money given to IllumiNations and others like it are simply producing counterfeits! As Dr. Floyd Nolen Jones says in his book WHICH VERSION IS THE BIBLE Page 22 'Is there someone who has always hated God's Word, wanted to destroy it, and has attempted to cloud man's mind and heart about its validity? In other words, as we read the Bible, is there any evidence that somebody has founded a "Yea, has God said" society? According to Genesis 3:1, Bible corruption began with Satan. Satan is the original Bible revisor. When he confronted Eve in the garden, he added to God's Word, he subtracted, he diluted and finally substituted his own doctrine for that which God had said. We find this occurring today. People are trying to add books to the Old and subtract words from the New Testament. Nothing has changed. We need to understand that the devil is promoting this continuing attack on the Word of God.'