I have seen interviews with Jimmy Lai on Sky News Australia before he was arrested and he said he would be willing to die for Hong Kong's freedom. Well, many politicians and well to do business people in America and Australia don't seem to have the same love for their country as Jimmy does for Hong Kong. Jimmy Lai's situation should disturb all of us who love liberty!
'Hong Kong pro-democracy media tycoon Jimmy Lai has been charged under the territory's controversial new national security law.
Mr Lai, 73, is accused of conspiring with foreign forces to endanger national security, and could face a lengthy jail term.
He is the most high-profile person charged under the new law.
Mr Lai founded the Apple Daily newspaper and is a fierce critic of the Beijing authorities.
Beijing has said the new security law will return stability to the territory after a year of unrest, but critics say it has silenced dissent.
Mr Lai was originally arrested under the law in August after a police raid on Apple Daily's head office, but was released on bail.
However, he has been in custody since 2 December, after being denied bail on a separate charge of fraud related to the lease of a building that houses the newspaper. He will appear in court on Saturday.
Mr Lai also holds UK citizenship and a spokesman for PM Boris Johnson said on Friday that the UK remained "deeply concerned about the Hong Kong authorities' focus on pursuing legal cases against pro-democracy figures like Jimmy Lai".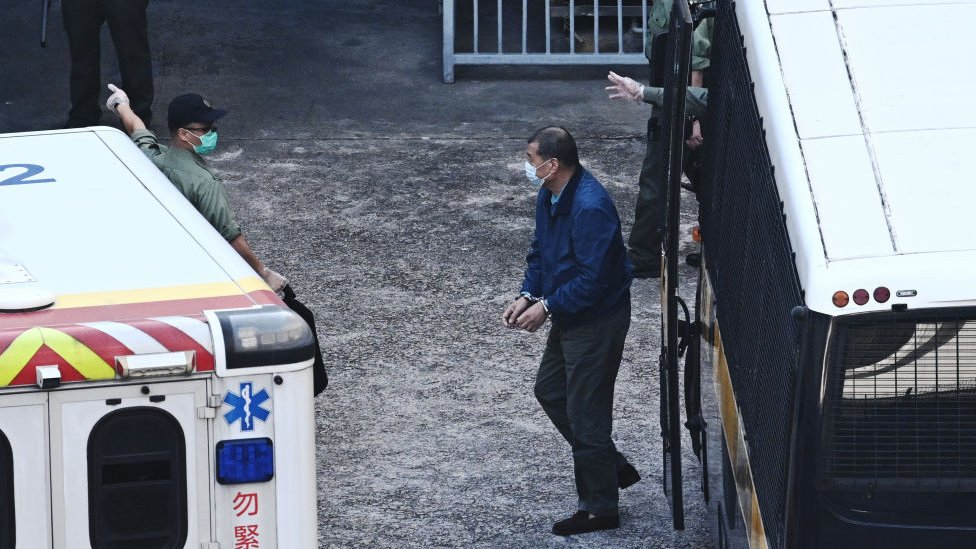 Meanwhile US-based news network Bloomberg reported that its Beijing-based staff member Haze Fan was being held by the Chinese authorities on suspicion of endangering national security.
Ms Fan, a Chinese citizen, had been missing since Monday when she was seen being escorted from her apartment by plain-clothes security officials. Her detention was confirmed on Thursday. A Bloomberg spokesperson said they were "very concerned for her".
In a separate case in Hong Kong earlier, teenage activist Tony Chung was convicted of desecrating the Chinese flag and unlawful assembly. He could now be facing up to five years in prison.
Chung, the leader of a now disbanded pro-democracy group, is also the first public political figure to be prosecuted under the national security law. He faces a charge of secession, which carries a maximum sentence of life in prison.
China has accelerated its crackdown on Hong Kong's opposition since the law was imposed in June, with legislators disqualified and dozens of activists charged or investigated.
Three prominent activists including Joshua Wong were jailed earlier this month for their part in pro-democracy protests in 2019.
Who is Jimmy Lai?
One of the city's most prominent supporters of the pro-democracy movement, Mr Lai is estimated to be worth more than $1bn (£766m). Having made his initial fortune in the clothing industry, he later ventured into media and founded Next Digital.
Next Digital publishes Apple Daily, a well-read tabloid which is frequently critical of Hong Kong and mainland Chinese leadership.
In a local media landscape increasingly fearful of Beijing, Mr Lai is a persistent thorn for China – both through his publications and writing.media captionJimmy Lai told the BBC he would not give in to intimidation
It has seen him become a hero for many residents in Hong Kong but on the mainland he is viewed as a traitor who threatens Chinese national security.
Interviewed by the BBC before his arrest earlier in December, he said he would not give in to intimidation.
"If they can induce fear in you, that's the cheapest way to control you and the most effective way and they know it. The only way to defeat the way of intimidation is to face up to fear and don't let it frighten you."
What is in the National Security Law?
A former British colony, Hong Kong was handed back to China in 1997 but under the "one country, two systems" principle.
It was supposed to guarantee certain freedoms for the territory – including freedom of assembly and speech, an independent judiciary and some democratic rights – which mainland China does not have.
But the National Security Law has reduced Hong Kong's autonomy and made it easier to punish demonstrators.
The legislation introduced new crimes, including penalties of up to life in prison. Anyone found to have conspired with foreigners to provoke "hatred" of the Chinese government or the Hong Kong authorities may have committed a crime.https://emp.bbc.com/emp/SMPj/2.36.7/iframe.htmlmedia captionHong Kong security law: The BBC's Stephen McDonell explains what it means, and what people there think
Trials can be held in secret and without a jury, and cases can be taken over by the mainland authorities. Mainland security personnel can legally operate in Hong Kong with impunity.
After the law was introduced, a number of pro-democracy groups disbanded out of fears for their safety.
The Chinese government defends the law, saying it will help return stability to the territory, which has been shaken by pro-democracy protests, and bring it more into line with the Chinese mainland.'https://www.bbc.com/news/world-asia-china-55271020